A global talent survey in 2018 showcased an existing shortage of skilled workers around the world. Multiple companies across Europe, from the U.K. to Germany, report varying levels of difficulty in finding and recruiting their ideal employees. Right now, European companies face a potential loss of $1.32 trillion in 2030 due to talent shortages. This indicates an urgent need to outsource business processes.
Information Technology is one of the most vulnerable industries in Europe today. Numerous reports show a large digital skills gap that companies are struggling to fill. Today, we'll discuss why offshoring to the Philippines can be a pivotal move for your organization, given Europe's troubles online.
Why European Companies Need to Outsource Digitally Skilled Talent
According to EY Global's 2018 survey "Build a Better Working Europe," European companies are struggling to find and retain employees with digital capabilities. Out of 200 HR professionals surveyed across Europe, 48% have stated that their companies lacked cybersecurity, artificial intelligence, and robotics skills.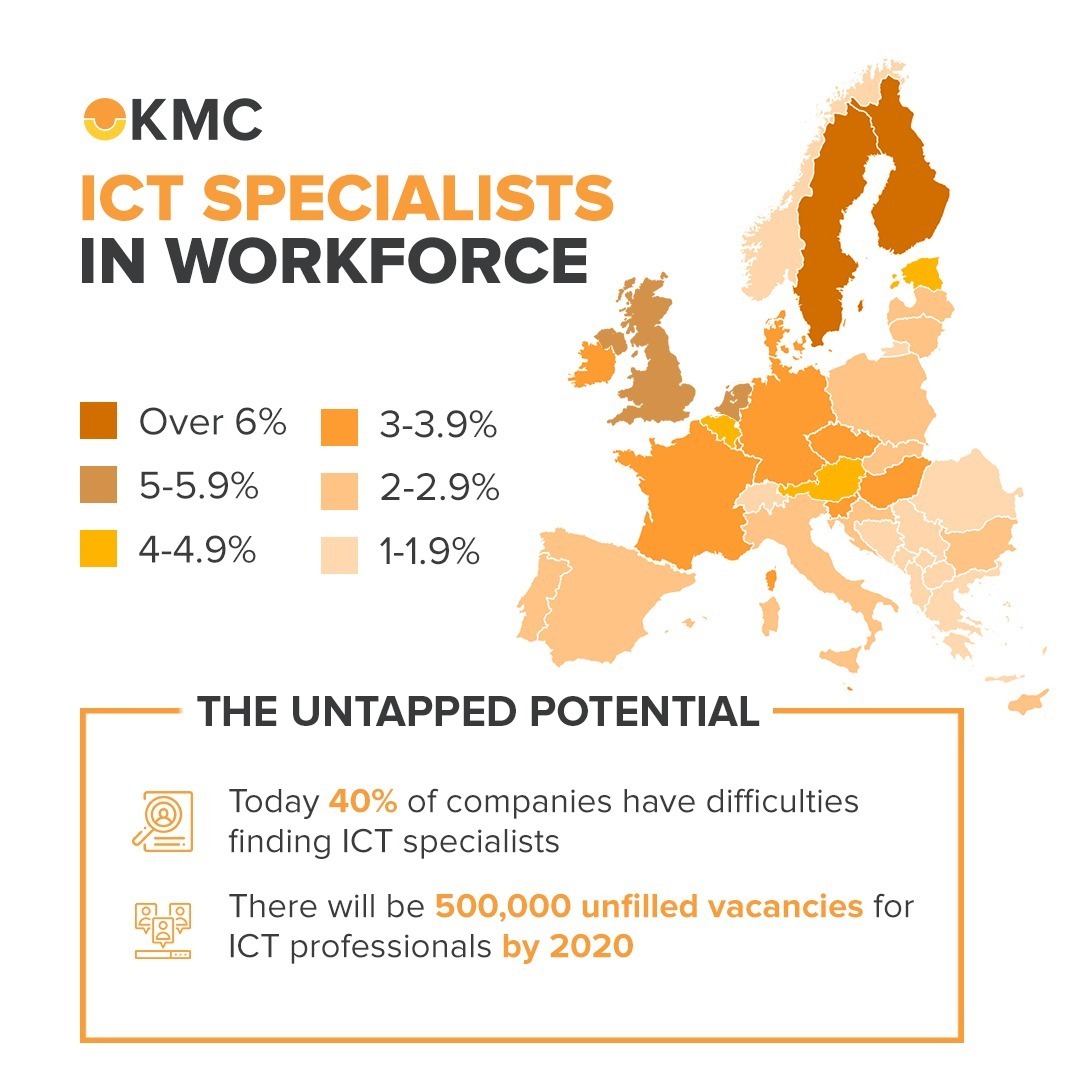 Info taken from: ec.europa.eu
In addition, the European Commission held a conference and released statistics saying that 44% of Europe's adult population had low-level to no digital skills at all. The same conference revealed that 37% of the European workforce lack basic digital skills.
European governments have initiatives to address these skills shortages. For example, France is giving away 800 francs a year to help employees invest in professional development, and the U.K. is planning to set aside a billion dollars to address their skills shortage. Although these are good fixes, these countries need an immediate solution to address company vacancies.
This is where outsourcing to the Philippines comes in. Staff leasing easily employs Philippine talent and provides a practical alternative to in-house, marginally more expensive talent.
Staff Leasing as the New Outsourcing
While full outsourcing is still an option for European companies, Staff Leasing in the Philippines is a much better option because it provides clients with several benefits absent from the full outsourcing model.
The first advantage of Staff Leasing over traditional outsourcing models is the level of control clients exercise over the leased employee. Staff Leasing allows clients to be part of the interview and screening process for candidates. This contrasts to traditional outsourcing options where incumbent employees are assigned to clients.
Another difference is cost. While outsourcing to the Philippines is already a cost-efficient business move, Staff Leasing further gives clients opportunities to save. This is due to the planning and execution of these offshoring methods that are faster than that of traditional outsourcing.
Affordable Talent Costs
Speaking of cost-efficiency, Philippine talent is affordable throughout multiple industries, the IT sector being one of them. For example, the average salary for Web Developers in the UK is 24,975 pounds (USD $32,235.36). In the Philippines, they make PHP 274,520.86 ($5,243) which is remarkably cheaper.
Across the board, IT and computer science-related positions in the Philippines all post lower talent costs compared to European countries. For context, we took 3 different IT positions from the U.K., Germany, and Spain. We compared all three salary costs vs. the Philippines.
Overall, Staff Leasing to the Philippines is the most effective move for European businesses that require world-class IT talent. This is the quickest and most practical solution as European companies and governments develop and use digital upskilling programs to improve worker capacities.